The Items list in Join gives you a complete view of the items under consideration in a project. You can see a summary view of each item, sort, filter, and group the list in this view. Many users find it useful for creating reports.
Items List Settings
When in the list view, you can change the type of display for the Items in the list, what milestone is populating the list of Items, or abbreviate the list by selecting a Meeting.
Change the View Type
Cozy- The cozy view displays the Item name, Categories, Creator, Creation Date, Due Date, Last Updated, Attachment, Comments, and Item Value.

Compact- The compact view displays the Item name and value.

Milestone Drop Down
The Milestone drop-down menu allows you to look back at previous lists of Items with the Status and Value reflected as they were.

The current milestone relation will then be presented in the lower right corner of the Item along with the Status indication and Current Value.

Meetings Drop Down
The Meetings drop-down will allow you to abbreviate the current list to Items that have been tagged for the selected Meeting. For more details on how to use Meetings in Join check out this article.
Search, Filter, and Sort in the Item List
When in the list view, you can search, filter, and sort to create a view for reporting.
Search
The search bar works in two ways:
Search a word within the name, description, and category (name & code) or
Search within the item field, i.e. assignee, date range, etc.
To search a field, type the name of that field followed by the : symbol followed by the search criteria. Example: "Assignee: Ben Harris"
Filter
The filter

drop-down menu allows you to filter the item list based on an Item's status, creator, and any custom categories.
Caution: If you are looking for an Item and it is not appearing on the list, check that you are on the active milestone and that the filters are not removing it from view.
Group By
The Group By drop-down menu tool allows you to group items by several criteria associated with the item. This includes the following: Meeting, Status, Assignee, Creator, and Categories.
Meeting, Status, Assignee, and Creator are all single-tier groups. Category grouping allows you to create a hierarchy. The Categories grouping displays check boxes next to each category. Once checked, the selected categories appear at the top of the list. Once on the list, they can be rearranged by drag and drop to modify the hierarchy.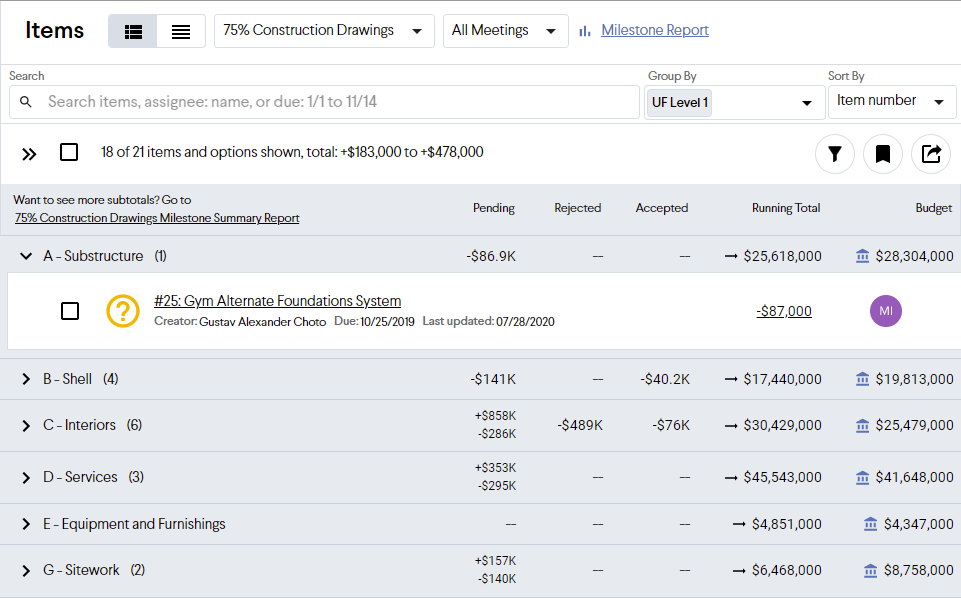 Options in the Items List View
Once an Item contains Options, it is easily identified in the Item List view with the darker grey shading. A user will only see items and items-with-options displayed as cards. The cost of an item-with-options will be displayed as a range to reflect the possible cost impacts of its options.