Learn how to import an estimate file from one of the supported estimating platforms or the Join spreadsheet import template
The easiest way to get a Milestone Estimate or Budget data into Join is by using one of the supported estimating platforms (Sage, WinEst, DESTINI) or the Join spreadsheet import template. Using one of these methods provides the most streamlined step-by-step process. Importing an estimate or budget goes through three stages:
Importing a Milestone Estimate or Budget
Click the Milestones tab in the top navigation bar
Create a new Milestone or select an existing one
Click the Estimate or Budget tab, depending on which is being imported
Drag & drop the estimate file into the import area or click Select a File to browse for the file. Once the imported file has been uploaded and processed, the Import Estimate dialog will display.
Select which WBS Codes to include or exclude from the import, rearrange the order by dragging them, and then click the Next button.

If necessary, adjust the mapping of the WBS Codes to existing or new Categorizations in the Project. You can also select your company's standard single-level and multi-level Categorizations here if they have been set up in the Admin Console. If your import has any matching errors, you can correct the errors here before importing, then click the Next button.

If the estimate file contains a detailed cost breakdown, an option to select what Cost Breakdown level is imported will be displayed. Select the desired level of cost detail and click the Next button to finalize the import process.

Reviewing and Updating Direct Costs and Markups
Once imported, review the estimate data, filter by any Category, adjust cost information as necessary and correct any Categorization errors (individually or in batch) in the Edit Estimate view.
Markups are often overlooked when importing an estimate. Review them by selecting the Milestone Markups section in the Edit Estimate view.

Caution: When importing, remember to add references in the Applies to... column for each Markup, as these are not included as part of the import.
Get a visual preview of the Milestone breakdown by selecting the Preview Milestone Report view.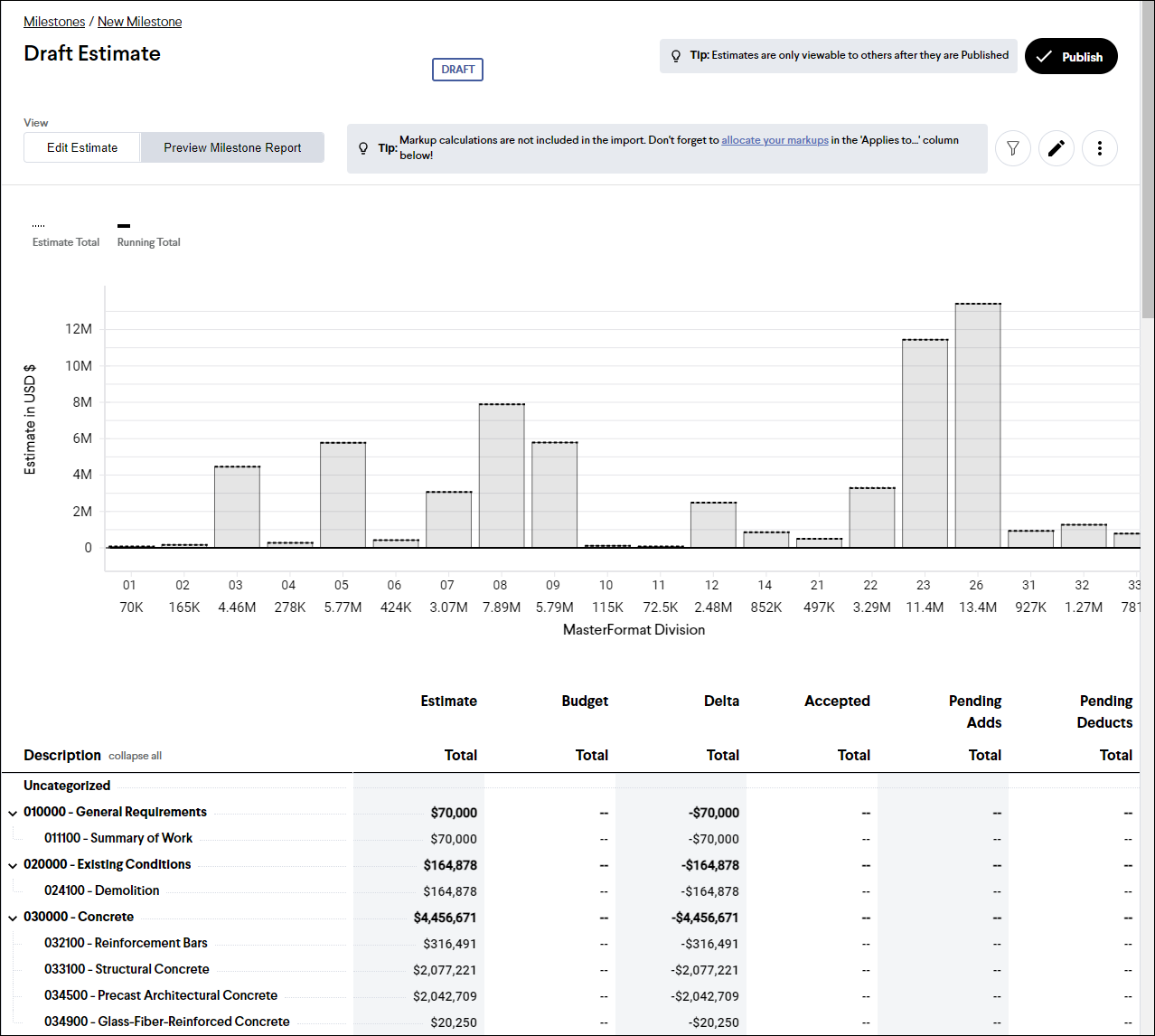 Publishing the Estimate or Budget
Now that the estimate is in tip-top shape and mirrors what was in the estimating platform, it is time to publish the estimate and make it available to the rest of the project team.
Click the Publish button in the top right corner
Click Ok in the Publish new estimate dialog box
Note: If the Milestone was created as a draft, it would also have to be published to make it visible to the project team.