Items are assigned a status to show their current state in the decision-making process and to help track decisions that have been made. There are several ways to set or change the status of an Item.
Changing the Status of a Single Item
When an Item's status is changed, the Total Cost Impact for that Item will move to the respective status in the Items chart on the Dashboard and in the Adds/Deducts by Status chart in the project sidebar. An Item status change will also adjust the Min/Max Available Range and be reflected as a colored dot in the Cost Trendline chart on the Dashboard.
Using the Items List
Click the Items tab in the top navigation bar
Hover over the current Item status in the Items List to display the available status options
Select the desired status
Using the Item Sidebar
Click the Items tab in the top navigation bar
Hover over an Item
Click the Expand Item Sidebar button to the far right of an Item
This will open the Item Sidebar on the right-hand side of the screen
Click the Item Status drop-down list in the General Info section of the Items Sidebar
Select the desired status
Using the Item Details View
Click the Items tab in the top navigation bar
Click the name of the Item to open the Item details view
Click the Item Status drop-down list at the top right-hand side of the window
Select the desired status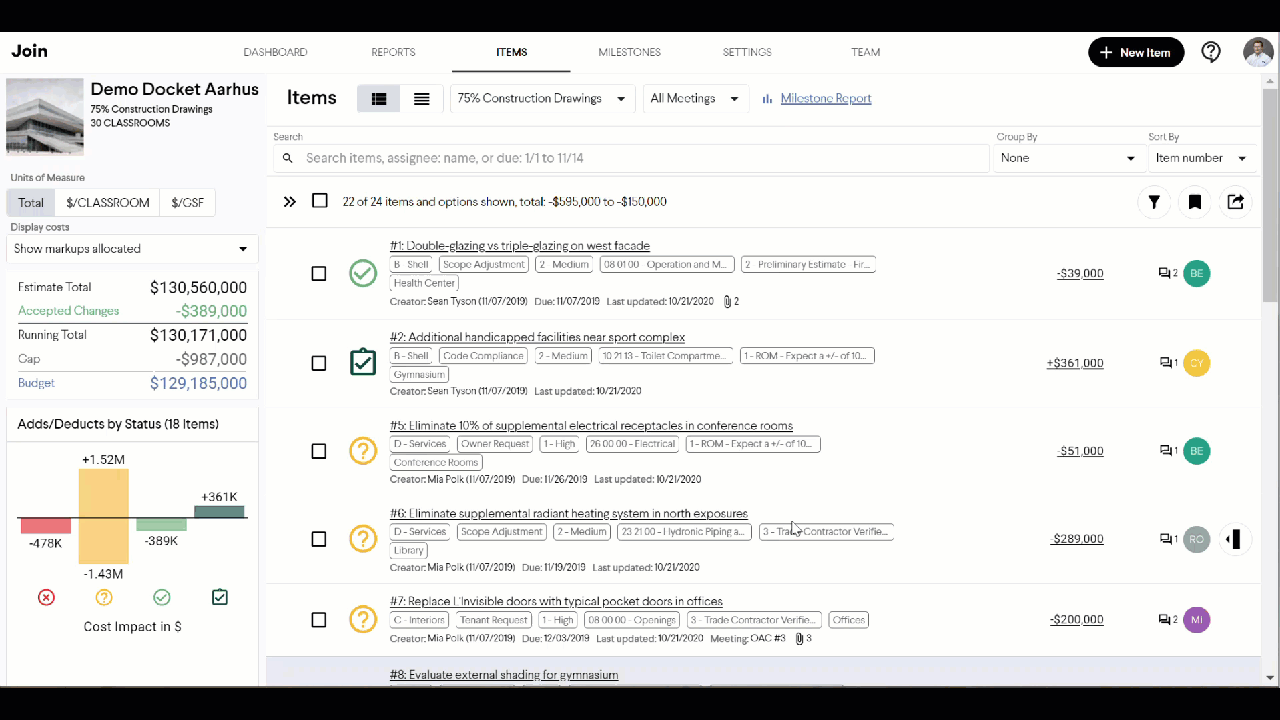 Changing the Status of Multiple Items
Click the Items tab in the top navigation bar
Select the desired Items by clicking on the check box to the left of each Item
Click the Edit Items button, which will appear after more than one Item is selected
Click the Status drop-down list and select the desired status in the Edit Selected Items menu
Click the Apply Changes button