Categorizations are a great way to group, sort, and filter your cost data and Items within Join.
Join uses Categorizations to create any work breakdown structure needed for a project. Creating and utilizing these Categorizations to classify your Estimates, Budgets, and Items will allow you to quickly pivot information in powerful ways. Join offers Group By, Sort By, and Filter functions found throughout the app to organize the data and effectively present ideas to your team. Once organized, these custom views can be saved by creating a custom report.
Categorizations Versus Categories
In Join you'll see references to both Categorizations and Categories. A "Category" is like a custom tag that can be applied to any cost line item or Item, and a "Categorization" is a group of related Categories. Categorizations function similarly to and are often synonymous with Work Breakdown Structures (WBS) in estimating platforms, but they are more flexible in their usage.
For example, if you wanted to break down the costs of your estimate by the areas of a project you could create a Categorization called "Location" with Categories of "Building", "Site", "Parking Garage", etc.
Categorizations can also be Item specific. For example, if you wanted to rank Items based on their level of importance or priority, you could create a "Priority Level" Categorization with Categories of "High", "Medium", and "Low".
Company Standard Categorizations Versus Project Categorizations
Categorizations can be created at the company level or the project level. Company standard Categorizations are created by Join company administrators and will be included in all new projects by default to help ensure consistency across the company (e.g. MasterFormat or UniFormat). Project-level Categorizations can be created on any project and are usually specific to that project (e.g. Location).
Single-level Versus Multi-level Categorizations
Join supports both single-level and multi-level Categorizations.
Single-level Categorizations
Single-level Categorizations have no hierarchy and all codes will appear as a list in a single column. Single-level Categorizations can be imported or created manually.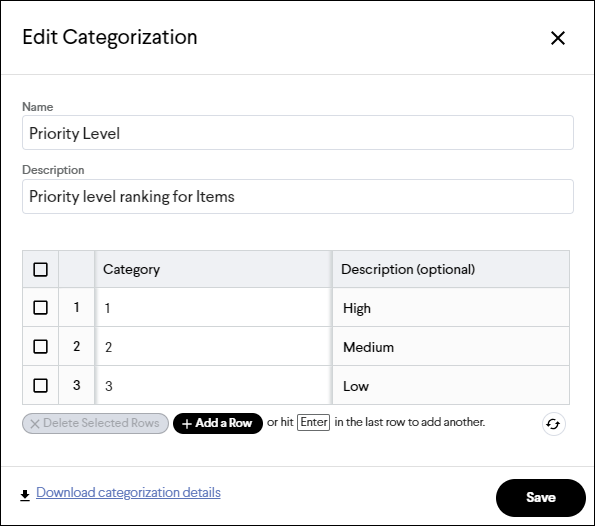 Multi-level Categorizations
Multi-level Categorizations contain a hierarchy and allow for several WBS codes to be combined into a single column with relationships between each level. Multi-level Categorizations are limited to four levels. The most common examples are MasterFormat and UniFormat. Multi-level Categorizations must be imported and cannot be created manually. Multi-level categorizations can be easily identified by the

icon.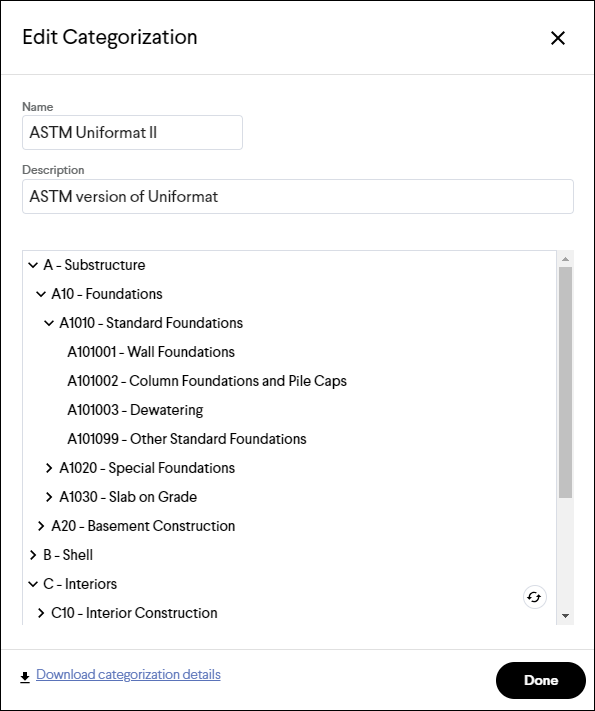 Example Categorizations
Here are some of the Categorizations we commonly see used in Join.
UniFormat, MasterFormat, Building Area, Priority Level, Reason for Change, Cost Confidence, TVD Cluster, Alternate, Phase, Tasks, Trade, Market Volatility Rating, Risk Rating, Inflation, Area Type.